Description
E38 DAC OVERVIEW
The e38 Mark II 8-channel DAC is a fifth generation DSD256 DAC. Built around the ES9038PRO monolithic DAC chip from ESS Technologies, the e38 has vanishingly low distortion and noise levels, and astonishingly clean analog-like sound. The e38 Mark II offers a high power, high performance headphone amplifier and ultimate resolution volume control.
What's New in the MKII
New DAC chip – the ESS ES9038PRO increases 4 times the number of internal paralleled DAC channels
Redesigned reference voltage sources and master clock power circuits
Refined analogue output stages built with components with superb linearity and enhanced power lines
Redesigned main board topology offers reduced electromagnetic interference and reduced channel crosstalk
exaSound's in–house design delivers world recognized, award winning sonic purity
ZeroJitter™ — a unique true asynchronous USB interface with error correction assures accurate data reception
ZeroResolutionLoss™ — an exclusive volume control with three–way volume synchronization• GalvanicInfinity™ — affords complete galvanic isolation for ultimate external noise reduction
FemtoMaster™ — our quad-clock architecture, with 82 femtosecond master clock and 3 auxiliary stream-control clocks, minimizes jitter for maximum timing accuracy, image development and bass extension
Balanced internal design – yields the lowest analog noise and lowest distortion
Roon
Via intelligent automatic cloud service library management, Roon delivers metadata for the user's library and frees the user from the complexities of music library management.
e38 Mark II is a Roon Tested DAC. It has been profiled and tested by both Roon Labs and exaSound for maximum compatibility. Together, Roon and exaSound deliver the power, flexibility, and performance benefits of digital audio, with the easiest setup and highest reliability available.
Output Options
The e38 DAC comes with RCA outputs standard. If you would like Mini-XLR Line Outputs, please select this option when adding to the cart.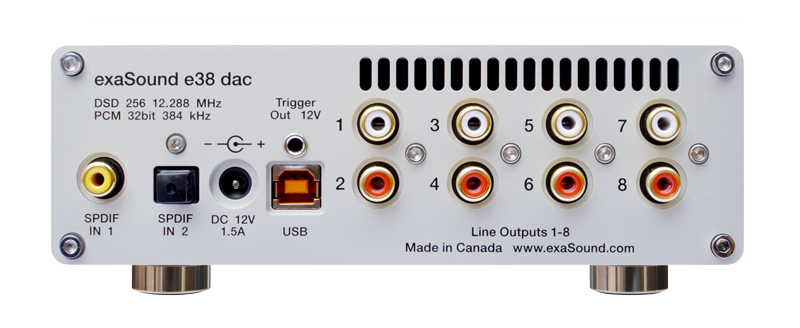 e38 Mark II DAC Standard Edition with Single-Ended RCA Line Outputs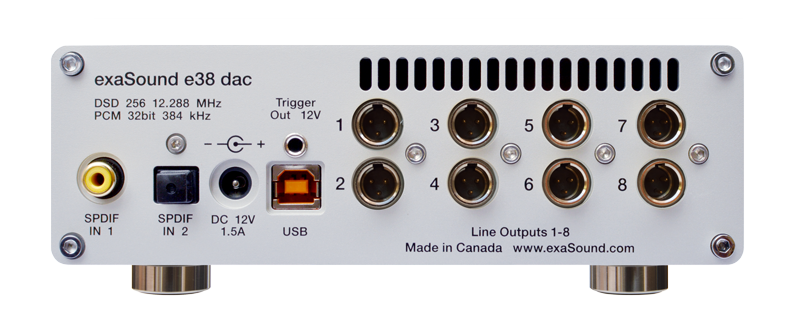 Limited Edition Balanced e38 Mark II DAC with Mini-XLR Line Outputs
TEDDY12/2 – 12V 2A Power Supply [option]
It is possible to order the e38 Mark II DAC with a Teddy Pardo Power Supply.
The Teddy 12/2 power supply is based on a superior regulator called SuperTeddyReg.
Click here to read more about Teddy Prado's power supply technology.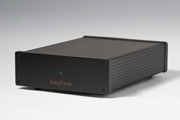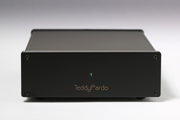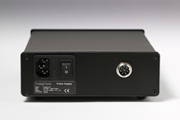 Teddy Pardo Power Supply Specifications
Power output: 12V, up to 2A
Mains Supply: 110-120V or 220-240V
Dimensions: 24x16x6 cm
E38 Mark II DAC Specifications
D/A Converter IC
 ESS Technology ES9038PRO
PCM Sampling Rates – Asynchronous USB
44.1kHz, 48kHz, 88.2kHz, 96kHz, 176.4kHz, 192kHz, 352.8kHz, 384kHz
DSD Sampling Rates – Asynchronous USB
(Windows ASIO;
Mac Core Audio DoP256;
Mac ASIO)
2.8224MHz (64Fs) 3.072MHz (64Fs)

5.6448MHz (128 Fs) 6.144MHz (128 Fs)

11.2896MHz (256Fs) 12.288MHz (256Fs)

PCM Sampling Rates – Coaxial SP/DIF
44.1kHz, 48kHz, 88.2kHz, 96kHz, 176.4kHz, 192kHz
PCM Sampling Rates – Optical (TOSLINK)
44.1kHz, 48kHz, 88.2kHz, 96kHz
Total Harmonic Distortion + Noise,1kHz, 0dBFS
0.0004%
Total Harmonic Distortion1kHz, 0dBFS, typical
0.0002%
Intermodulation Distortion
19kHz + 20kHz
0 dBFS 2nd order IMD, typical
-122db  0.00008%
Signal-to-Noise Ratio
A-weighted, 2.1 Vrms, typical
123db
DAC Master Clock Jitter
0,082ps (82fs) rms
Frequency Response
0Hz – 20kHz (-0.15dB) @ 44.1kHz / 48kHz sampling rates;
0Hz – 30kHz (-0.15dB) @ sampling rates >= 88.2kHz;
Phase:
Non-inverting
Channel Separation, typical
133dB @ 1kHz for adjacent channels
123dB @ 1kHz between channel groups
Digital Inputs
USB 2.0, SP/DIF Coaxial, SP/DIF TOSLINK (optical)
Number of channels USB
  2 to 8 channels PCM, DSD
 Number of channels SP/DIF
2 channels PCM
Operating System Requirements: Windows
Windows 10 x64, Windows 8 x86, Windows 8 x64, Windows 7, Windows XP
ASIO compatible player required for all Windows platforms 
Operating System Requirements: Mac
Mac OS Mavericks, Yosemite, El Captain, Sierra High Sierra, Mojave
Digital Volume Control Steps
0.5dB
Volume Matching between Channels
Better than 0.1dB
Line Output Unbalanced
(gold-plated contacts)
RCA
Line Output Balanced
(gold-plated contacts)
—
Line Output Level Unbalanced
2.1Vrms
Line Output Level Balanced
—
Line Output Impedance
200Ohms
Line Output Offset
< 5mV
Headphone Amp Current Output
250mA peak
Headphone Amp Output Impedance
10hm, 20Hz-20kHz
Headphone Amp Output Voltage
0-6V
Headphone Amp THD+N, typical
0.00052% , 1Vrms into 60ohms
Headphone Amp Intermodulation Distortion
1Vrms into 60ohms
19kHz + 20kHz 2nd order IMD, typical
-117dB  0.00014%
Headphone Jack
1/4″ TRS, SE
USB Connector
 Classic USB B
Power Jack Diameter
Int. 2.5mm / Ext. 5.5mm
Power Consumption
< 20W
Dimensions
(W x H x D)
 6.5 x 2.2 x 9.25 inches (165 x 55 x 235mm)
Weight
2.4lbs (1.1Kg)