Description
exaSound's in–house design delivers world recognized, award winning sonic purity
The e62 DAC is based on the enhanced ES9028PRO monolithic DAC chip from ESS. Leveraging the world's highest performance 32-bit Hyperstream technology, the ESS Sabre Pro series enabled us to create the next generation of Reference Class conversion. The e62 will bring out the true resolution power of your audio system.
ZeroJitter™ — a unique true asynchronous USB interface with error correction assures accurate data reception
ZeroResolutionLoss™ — an exclusive volume control with three–way volume synchronization
GalvanicInfinity™ — affords complete galvanic isolation for ultimate external noise reduction
FemtoMaster™ — our quad-clock architecture, with 82 femtosecond master clock and 3 auxiliary stream-control clocks, minimizes jitter for maximum timing accuracy, image development and bass extension
Truly balanced design – yields the best analog noise performance and lowest distortion
Roon
Roon offers engaging, enjoyable way to browse your music. Via intelligent automatic cloud service library management, Roon delivers metadata for the user's library and frees the user from the complexities of music library management.
e68 is a Roon Tested DAC. It has been profiled and tested by both Roon Labs and exaSound for maximum compatibility with the Roon software and service. Roon identifies exaSound devices and sends them audio optimized for their capabilities. Together, Roon and exaSound deliver the power, flexibility, and performance benefits of digital audio, with the easiest setup and highest reliability available.
Streaming Options
The exaSound Sigma Streamer turns any exaSound DAC into a network-connected device. It offers master-quality Tidal and Qobuz streaming with Roon and UPnP. Sigma Streamer delivers seamless, top-quality sound over wired or wireless connection, accessing high-resolution streaming services and local files. Sigma Streamer can be used with computer-based audio servers or with optimized streaming servers like the exaSound Gamma Server and Delta Server.
Bundle pricing is available for the e62 DAC in combination with the Sigma Streamer.
Exceptional Value
Award winning, reference level fidelity at a sensible price
Vanishingly low noise and distortion with highly accurate and extended frequency response form the foundation for our natural, dynamic sound and ultimate subjective appreciation
Flexible connectivity, with simultaneous, independent balanced and unbalanced output stages means you're always free to use the interface you want, or both at the same time
Innovative Design »« Affordable Perfection
The difference is obvious from your very first listen, even with an ordinary Compact Disc. The e62 DAC offers a very neutral presentation, and the more resolving your system, the better it can perform. With high quality HRA studio masters, you will hear the music literally as it was recorded, with nothing added and nothing taken away.
Features
Sample Rates: ENclusiv™ comprehensive sample rate support

DSD512: 22.5792 or 24.576 MHz
DSD256: 11.2896 or 12.288 MHz
DSD128: 5.6448 or 6.144 MHz
DSD64: 2.8224 or 3.072 MHz
MQA full 'unfold' for delivering Hi-Res music data up to 24-bit 384kHz
PCM/DXD: 44.1kHz to 384kHz at 32 bits

Converter Core: ESS Technologies 9028Pro reference monolythic 8 channel DAC configured for stereo. Four internal DAC channels paralleled for each output channel.
USB Input: Proprietary ZeroJitter™ asynchronous USB interface with error correction on classic B–Type connector, USB cable included.
Host Support: Custom, high performance Mac OS & Windows ASIO drivers; MAC Core Audio drivers with DoP256 support; exaSound streamers and servers.
Player Application Support: Automatic sampling rate switching, software upsampling up to 384 kHz PCM and DSD512
Clock: FemtoMaster™ super–low jitter quad-clock architecture, with 82 femtosecond master clock and 3 auxiliary stream-control clocks
Power Conditioning: 11 linear power filtering stages
Host Noise Rejection: GalvanicInfinity™ – Galvanic isolation between the USB subsystem and the DAC circuitry eliminates ground loop noise and blocks computer–generated interference
Headphone Output: Third generation headphone amplifier, 4W into 16Ω doubles the current output to drive low impedance and low sensitivity headphones
Digital Inputs: Two S/PDIF inputs provide jitter reduction and superb D/A conversion when used with CD transports
Analog Outputs: Simultaneously driven, gold–plated balanced XLR and unbalanced RCA line outputs
Power Management: 12V Trigger output
Remote Control: Included 7 button remote, the e62 can be easily programmed to work with most IR remotes
Power Supply Options
exaSound DACs are powered by external 12V power supply. The e68 uses 15 internal linear power conditioning stages in cascaded configuration. Every subsystem is powered by dedicated power source. This sophisticated power conditioning makes the e68 very insensitive to the quality of the external power supply.
The e68 DAC is sold with a desktop style switching power supply included. Customers interested in using a premium quality linear power source have the option to order the e68 DAC bundled with a Teddy Pardo power supply.
TEDDY12/2 – 12V 2A Power Supply [option]
It is possible to order the e38 Mark II DAC with a Teddy Pardo Power Supply.
The Teddy 12/2 power supply is based on a superior regulator called SuperTeddyReg.
Click here to read more about Teddy Prado's power supply technology.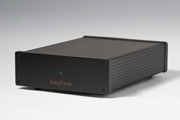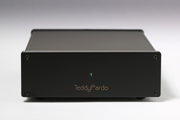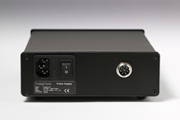 Teddy Pardo Power Supply Specifications
Power output: 12V, up to 2A
Mains Supply: 110-120V or 220-240V
Dimensions: 24x16x6 cm
E38 Mark II DAC Specifications
D/A Converter IC
ESS Technology ES9028PRO 32-bit, 8-channel PRO series
 PCM Sampling Rates – USB
44.1kHz, 48kHz, 88.2kHz, 96kHz, 176.4kHz, 192kHz, 352.8kHz, 384kHz
 MQA Sampling Rates – USB
MQA full 'unfold' for delivering Hi-Res music data up to 24-bit 384kHz
DSD Sampling Rates – USB input when used with:
• Windows ASIO
• Mac ASIO
• exaSound streamers and serversNotes:
• ASIO Compatible player like Roon,JRiver and HQplayer is requited on Windows.
• ASIO on Mac OS is supported by Roon and HQPlayer 3
 DSD64: 2.8224MHz; 3.072MHz
DSD128: 5.6448MHz; 6.144MHz
DSD256: 11.2896MHz; 12.288MHz
DSD512: 22.5792MHz; 24.576MHz
 DSD Sampling Rates – USB input when used with Mac Core Audio
 DSD64: 2.8224MHz; 3.072MHz
DSD128: 5.6448MHz; 6.144MHz
DSD256: 11.2896MHz; 12.288MHz
PCM Sampling Rates – Coaxial SP/DIF IN1
44.1kHz, 48kHz, 88.2kHz, 96kHz, 176.4kHz, 192kHz
PCM Sampling Rates – Optical (TOSLINK) IN2
44.1kHz, 48kHz, 88.2kHz, 96kHz
Total Harmonic Distortion + Noise,1kHz, 0dBFS
0.00021%
Total Harmonic Distortion1kHz, 0dBFS
0.000125%
Intermodulation Distortion
19KHz + 20KHz @ 0 dBFS
2nd order IMD
-128db 0.00004%
Signal-to-Noise Ratio
A-weighted, 2 Vrms
128dB
DAC Master Clock Jitter
0,082ps (82fs) rms
Frequency Response
0Hz – 20kHz (-0.15dB) @ 44.1kHz / 48kHz sampling rates;
0Hz – 30kHz (-0.15dB) @ sampling rates >= 88.2kHz;
Phase:
Non-inverting
Channel Separation
130dB @ 1kHz
Digital Inputs
USB 2.0, SP/DIF Coaxial, SP/DIF TOSLINK (optical)
Number of channels USB
  2 channels PCM, DSD
 Number of channels SPDIF
2 channels PCM
Operating System Requirements: Windows
Windows 10 x64, Windows 8 x86/x64, Windows Server 2012 R2, Windows 7 x86/x64, Windows XP x86
Operating System Requirements: Mac
Mac OS Mavericks, Yosemite, El Captain, Sierra, High Sierra, Mojave
Digital Volume Control Steps
0.5dB
Volume Matching between Channels
Better than 0.1dB
Line Outputs Unbalanced
RCA, gold plated contacts
Line Outputs Balanced
XLR, gold plated contacts
(XLR and RCA line outputs can be used simultaneously)
Line Output Level Unbalanced
 2.2Vrms
Line Output Level Balanced
4.5Vrms
Line Output Impedance
200 Ohms
Line Output Offset
< 5mV
Headphone Amp Current Output
 500mA peak
Headphone Amp Output Impedance
0.5Ohm, 20Hz-20kHz
Headphone Amp Output Voltage
 0-7V
Headphone Amp THD+N
0.0012%, 1Vrms into 60ohms
Headphone Amp Intermodulation Distortion
1Vrms into 60ohms
19kHz + 20kHz 2nd order IMD
 -120dB  0.0001%
Headphone Jack
1/4″ TRS, SE
USB Connector
 USB B
Power Jack Diameter
Internal: 2.5mm External : 5.5mm
Power Consumption
 <20W
Dimensions
(W x H x D)
 6.5 x 2.2 x 9.25 inches (165 x 55 x 235mm)
Weight
2.4lbs (1.1Kg)
ASIO is a registered trademark of Steinberg Media Technologies GmbH. The MQA logo is a trade mark of MQA Limited. © MQA Limited 2018.