Description
exaSound Presents the e68 – Dual-Purpose Digital to Analogue Converter
Multichannel DAC capable of playing up to 8-chanels DSD256
Stereo DAC with support for DSD512
Built around the ES9038PRO monolithic DAC chip from ESS Technologies, the e68 has vanishingly low distortion and noise levels, and astonishingly natural analog-like sound.
The e68 offers a high-power, high-performance headphone amplifier and ultimate resolution volume control.
exaSound's in–house design delivers world recognized, award winning sonic purity
World's highest performance Sabre ES9038PRO DAC chip increases 4 times the internal paralleled DAC channels to bring more presence in the mid-range
Sophisticated reference voltage sources and master clock power circuits deliver more precise 3D imaging and more natural portrayal of transients
Refined analogue output stages built with components with superb linearity and enhanced power lines offer lower noise and distortion levels, improves micro dynamics and base reproduction
Optimised main board topology offers reduced EM interference and reduced channel crosstalk resulting in better detail and resolution
ZeroJitter™ — a unique true asynchronous USB interface with error correction assures accurate data reception
ZeroResolutionLoss™ — an exclusive volume control with three–way volume synchronization brings convenience and dynamic range comparable to the best analogue volume controls
GalvanicInfinity™ — affords complete galvanic isolation for ultimate external noise reduction
FemtoMaster™ — our quad-clock architecture, with 82 femtosecond master clock and 3 auxiliary stream-control clocks, minimizes jitter for maximum timing accuracy, image development and bass extension
Balanced internal design – yields the lowest analog noise and lowest distortion
Roon
Roon offers engaging, enjoyable way to browse your music. Via intelligent automatic cloud service library management, Roon delivers metadata for the user's library and frees the user from the complexities of music library management.
e68 is a Roon Tested DAC. It has been profiled and tested by both Roon Labs and exaSound for maximum compatibility with the Roon software and service. Roon identifies exaSound devices and sends them audio optimized for their capabilities. Together, Roon and exaSound deliver the power, flexibility, and performance benefits of digital audio, with the easiest setup and highest reliability available.
Streaming Options
The exaSound Sigma Streamer turns any exaSound DAC into a network-connected device. It offers master-quality Tidal and Qobuz streaming with Roon and Airplay. Sigma Streamer delivers seamless, top-quality sound over wired or wireless connection, accessing high-resolution streaming services and local files. Sigma Streamer can be used with computer-based audio servers or with optimized streaming servers like the exaSound Gamma Server and Delta Server.
Bundle pricing is available for the e68 DAC in combination with the Sigma Streamer. See above.
Benefits
Uncompromised fidelity — ENclusiv™ zero-configuration comprehensive sampling rate support, all the way up to native DSD512 and 32 bit PCM at 384 kHz/DXD
Simplicity — Play multichannel or stereo in one playlist without changing settings
Forget guesswork — Zero-configuration automatic filter selection for every format and sampling rate
Love the convenience — Synchronized simultaneous operation from IR Remote, device controls and software dashboard
Blackest blacks — Ultimate clean power, with 15 linear power conditioning stages, and an upgradable external power supply
Get lost in your music — Roon: the most engaging, enjoyable way to browse your music. RoonReady enables fast and highly reliable auto–discovery for instant setup
Power Supply Options
exaSound DACs are powered by external 12V power supply. The e68 uses 15 internal linear power conditioning stages in cascaded configuration. Every subsystem is powered by dedicated power source. This sophisticated power conditioning makes the e68 very insensitive to the quality of the external power supply.
The e68 DAC comes with a desktop style switching power supply included. Customers interested in using a premium quality linear power source have the option to order the e68 DAC bundled with a Teddy Pardo power supply. See above.
TEDDY12/2 – 12V 2A Power Supply [option]
It is possible to order the e38 Mark II DAC with a Teddy Pardo Power Supply.
The Teddy 12/2 power supply is based on a superior regulator called SuperTeddyReg.
Click here to read more about Teddy Prado's power supply technology.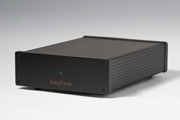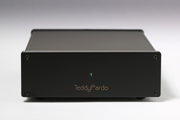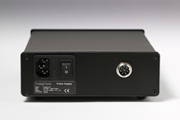 Teddy Pardo Power Supply Specifications
Power output: 12V, up to 2A
Mains Supply: 110-120V or 220-240V
Dimensions: 24x16x6 cm
ExaSound E68 DAC Specifications
D/A Converter IC
 ESS Technology ES9038PRO
PCM Sampling Rates – USB
44.1kHz, 48kHz, 88.2kHz, 96kHz, 176.4kHz, 192kHz, 352.8kHz, 384kHz

DSD Sampling Rates – USB
• Windows ASIO
• Mac ASIO
• Mac Core Audio
• exaSound streamers and servers

Notes:
• ASIO Compatible player like Roon,JRiver and HQplayer is requited on Windows.
• ASIO on Mac OS is supported only by Roon and HQPlayer 3

DSD64:  2.8224MHz; 3.072MHz

DSD128: 5.6448MHz; 6.144MHz

DSD256: 11.2896MHz; 12.288MHz

DSD512 – USB – Stereo Mode:
• Windows ASIO
• Mac ASIO
• exaSound streamers and serversNote:
• DSD512 is not supported on Mac Core Audio
DSD512: 22.5792MHz; 24.576MHz
PCM Sampling Rates-SPDIF Coaxial IN 1
44.1kHz, 48kHz, 88.2kHz, 96kHz, 176.4kHz, 192kHz
PCM Sampling Rates- Optical (TOSLINK) IN 2
44.1kHz, 48kHz, 88.2kHz, 96kHz
Total Harmonic Distortion + Noise,1kHz, 0dBFS
0.0004%
Total Harmonic Distortion1kHz, 0dBFS, typical
0.0002%
Intermodulation Distortion
19kHz + 20kHz
0 dBFS 2nd order IMD, typical
-122db  0.00008%
Signal-to-Noise Ratio
A-weighted, 2.1 Vrms, typical
123db
DAC Master Clock Jitter
0,082ps (82fs) rms
Frequency Response
0Hz – 20kHz (-0.15dB) @ 44.1kHz / 48kHz sampling rates;
0Hz – 30kHz (-0.15dB) @ sampling rates >= 88.2kHz;
Phase:
Non-inverting
Channel Separation, typical
133dB @ 1kHz for adjacent channels
123dB @ 1kHz between channel groups
Digital Inputs
USB 2.0, SPDIF Coaxial, SPDIF TOSLINK (optical)
Number of channels, USB
  2 to 8 channels PCM, DSD
 Number of channels, SPDIF
2 channels PCM
Operating System Requirements: Windows
Windows 10 x64, Windows 8 x86, Windows 8 x64, Windows 7, Windows XP
ASIO compatible player required for all Windows platforms
Operating System Requirements: Mac
Mac OS Mavericks, Yosemite, El Captain, Sierra High Sierra, Mojave
Digital Volume Control Steps
0.5dB
Volume Matching between Channels
Better than 0.1dB
Line Outputs, Unbalanced
RCA, gold-plated contacts
Line Output Level
2.1Vrms
Line Output Level Balanced
—
Line Output Impedance
200Ohms
Line Output Offset
< 5mV
Headphone Amp Current Output
250mA peak
Headphone Amp Output Impedance
1 Ohm, 20Hz-20kHz
Headphone Amp Output Voltage
0-6V
Headphone Amp THD+N, typical
0.00052% , 1Vrms into 60ohms
Headphone Amp Intermodulation Distortion
1Vrms into 60ohms
19kHz + 20kHz 2nd order IMD, typical
-117dB  0.00014%
Headphone Jack
1/4″ TRS, SE
USB Connector
 USB B
Power Jack Diameter
Internal: 2.5mm External : 5.5mm
Power Consumption
< 20W
Dimensions
(W x H x D)
 6.5 x 2.2 x 9.25 inches (165 x 55 x 235mm)
Weight
2.4lbs (1.1Kg)