Description
exaSound Presents the s88 8-Channel Streaming DAC
Featuring a reference-grade 32-bit digital-to-analog converter and Roon-Ready streamer in stylish full-size mono-block enclosure, the s88 delights with its ergonomic simplicity and sonic perfection.
With refinements like autonomous balanced and unbalanced I/V stages and exaSound's unique three-way galvanic isolation, ultimate resolution volume control and high-performance headphone amplifier, the s88 Eight-Channel Streaming DAC will uncover every detail in your high-resolution files, allowing you to hear the music just as it was recorded.
s88 features proprietary asynchronous USB streaming, ASIO and Core Audio drivers and FPGA core to achieve 32bit, low-jitter, bit-perfect signal path.
s88 will play natively DSD encoded files up to 8-channels DSD256, DXD 352.8 kHz and PCM up to 384 kHz.
In stereo mode s88 supports DSD playback of DSD512 files and streams.
With state-of-the-art performance, easy operation, remote diagnostics, online updates, upgradable output stages and exaSound's acclaimed customer support, the s88 Streaming DAC will be the cornerstone of your music system for years to come.
EXASOUND Presents The New S88 Mark II
s88 Mark II – New Features
s88 Mark II features new output stages with improved micro-symmetry of the balanced outputs.
Newly released Tidal Connect support allows the Tidal apps on iOS, Android, Mac OS and Windows to stream directly to the S88 Mark II.
New Audio Optimization Settings allow manual selection of PCM reconstructions filters and roll-off filters.
New Settings for SPDIF and Optical TOSLINK inputs allow compatibility with consumer-grade devices that exhibit high jitter, while maintaining sonic purity.
New Bluetooth Audio Streaming support makes s88 Mark II easily accessible in casual listening settings.
New Advanced Settings refine the transition playback states from track to track.
Upgrades for s88 DACs to the Mark II release will be available in the near future.
Designed and hand-made entirely in Canada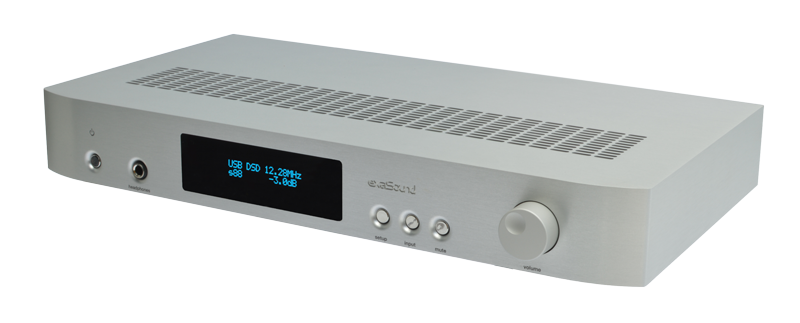 exaSound's in–house design delivers world recognized, award winning sonic purity
World's highest performance Sabre ES9038PRO DAC chip increases 4 times the internal paralleled DAC channels to bring more presence in the mid-range
Sophisticated reference voltage sources and master clock power circuits deliver more precise 3D imaging and more natural portrayal of transients
Each channel has autonomous balanced and unbalanced analogue output stages that can be used simultaneously. Components with superb linearity and enhanced power lines offer lower noise and distortion levels, fine micro dynamics and natural base reproduction.
Octo-mono output stage topology offers reduced EM interference and reduced channel crosstalk resulting in better detail and resolution.
Future-proof design allows for upgrades of the output stages, the streamer module CPU, RAM and SSD storage.
ZeroJitter™ — a unique true asynchronous USB interface with error correction assures accurate data reception
ZeroResolutionLoss™ — an exclusive volume control with four–way volume synchronization brings convenience and dynamic range comparable to the best analogue volume controls
GalvanicInfinity™ — affords complete galvanic isolation for ultimate external noise reduction
FemtoMaster™ — our quad-clock architecture, with 82 femtosecond master clock and 3 auxiliary stream-control clocks, minimizes jitter for maximum timing accuracy, image development and bass extension
Balanced internal design – yields the lowest analog noise and lowest distortion

Roon offers engaging, enjoyable way to browse your music. Via intelligent automatic cloud service library management, Roon delivers metadata for the user's library and frees the user from the complexities of music library management.
s88 is a Roon Ready streamer and Roon Tested DAC. It has been profiled and tested by both Roon Labs and exaSound for maximum compatibility with Roon. Roon identifies exaSound devices and sends them audio optimized for their capabilities. Together, Roon and exaSound deliver the power, flexibility, and performance benefits of digital audio, with the easiest setup and highest reliability available.
Streaming Options






The s88 Streaming DAC offers master-quality Tidal and Qobuz streaming with Roon and Airplay. It delivers seamless, top-quality sound over wired or wireless connections, accessing high-resolution streaming services and local files. s88 can be used with the Roon Nucleus and with PC and Mac-based audio servers.
exaSound-made Gamma and Delta servers offer tight integration and improved ergonomics when used with the s88 Streaming DAC. The exaSound Delta server offers the highest CPU performance available on the market for multichannel DSP processing with Roon.
Benefits
Uncompromised fidelity — ENclusiv™ zero-configuration comprehensive sampling rate support, all the way up to native DSD512 and 32 bit PCM at 384 kHz/DXD
Simplicity — Play multichannel or stereo in one playlist without changing settings
Forget guesswork — Zero-configuration automatic filter selection for every format and sampling rate
Love the convenience — Synchronized simultaneous operation from IR Remote, device controls and software dashboard
Unique ergonomics – acceleration-sensing volume knob delivers precise 0.5 dB volume changes when turned slowly and large volume correction when turned
Blackest blacks — Ultimate clean power, with 15 linear power conditioning stages, and an upgradable external power supply
Get lost in your music — Roon: the most engaging, enjoyable way to browse your music. RoonReady enables fast and highly reliable auto–discovery for instant setup

Features
Sample Rates: ENclusiv™ comprehensive sample rate support

DSD64: 2.8224 and 3.072 MHz
DSD128: 5.6448 and 6.144 MHz
DSD256: 11.2896 and12.288 MHz
DSD512: 22.5792 and 24.576 MHz (Stereo Only)
PCM/DXD: 44.1kHz to 384kHz at 32 bits

Converter Core: ESS Technologies 9038Pro reference monolythic 8 channel DAC
USB Input: Proprietary ZeroJitter™ asynchronous USB interface with error correction on classic B–Type connector, USB cable included
USB Host Support: Custom, high performance Mac OS & Windows ASIO drivers; MAC Core Audio drivers with DoP256 support
LAN Input: Wired Gigabit Ethernet and wireless WiFi 802.11ac supporting Ronn Raat, Signalyst NAA, UPnP and Airplay audio streaming.
Server Support: Roon, HQPlayer, UPnP and Airplay. Built-in multichannel UPnP server with DSD512 support.
Clock: FemtoMaster™ super–low jitter quad-clock architecture, with 82 femtosecond master clock and 3 auxiliary stream-control clocks
Power Conditioning: 15 linear power filtering stages, optional dedicated linear power supply for the DAC sunsystem
Host Noise Rejection: GalvanicInfinity™ – Galvanic isolation between the USB subsystem, streamer module and the DAC circuitry eliminates ground loop noise and blocks computer–generated interference
Headphone Output: Third generation headphone amplifier, capable of driving low impedance and low sensitivity headphones
Additional Stereo Digital Inputs: Two SPDIF inputs provide jitter reduction and superb D/A conversion when used with CD transports
Analog Outputs: Simultaneously driven autonomous balanced and unbalanced output stages. Gold–plated balanced XLR and unbalanced RCA line outputs.
Power Management: 12V Trigger output
Remote Control: Included 7 button remote, s88 can be configured to work with most IR remotes
Remote Support, Remote Diagnostics, Remote Updates
Power Supply Options
The s88 Streaming DAC supports two power supply configurations.
Single Power Supply Configuration
the exaSound s88 Streaming DACs is offered with a desktop style 12V switching power supply. The s88 uses 15 internal linear power conditioning stages in cascaded configuration. Every subsystem is powered by dedicated power source. This sophisticated power conditioning makes the s88 very insensitive to the quality of the external power supply.
Using Additional Linear Power Supply for the DAC Analogue Stages
To achieve the lowest possible noise level, a third-party 12V linear power supply can be used for the DAC analogue circuits and IV stages. Customers interested in using additional premium-quality linear power source have the option to order the s88 DAC bundled with a Teddy Pardo power supply.
Teddy12/2 – 12V 2A Power Supply
The Teddy 12/2 power supply is based on a superior regulator called SuperTeddyReg.
Click here to read more about Teddy Prado's power supply technology.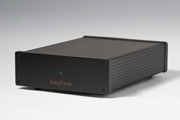 Specifications
Power output: 12V, up to 2A
Mains Supply: 110-120V or 220-240V
Dimensions: 24x16x6 cm
Full specifications and firmware updates available at https://www.exasound.com/Products/s88StreamingDAC.aspx