Description
The exaSound Sigma connects your exaSound DAC to the home network and turns it into a streaming device. It delivers seamless, top-quality sound with Roon, HQPlayer, UPnP and Airplay.
Extended Hi-Res audio support up to DSD256, DXD, PCM 384 kHz/32bit and MQA is available over wired Ethernet and Wi-Fi 802.11 AC connection.Tidal, Qobus, Spotify and other Internet streaming services are available with Roon or with popular apps including Bubble UPnP and MconnectHD.
RoonReady

HQPlayer NAA

UPnP

OpenHome
ZeroJitter™ Asynchronous Bitperfect Streaming
exaSound Sigma Streamer offers the best of the proprietary and the open-source audio technologies in one compact component. It can be used right out of the box with zero-setup. Advanced configurations are available via Web-browser user interface.
ZeroResolutionLoss™ Volume Control
All-time 0dB full-scale streaming
4-way volume synchronization
Volume trimming for individual channels
Volume bypass
ENclusiv™ Comprehensive Sampling Rate support in stereo and multi-channel:
Native DSD64, DSD128, DSD256
DXD 352.8kHz /32bit
PCM 44.1 to 384 kHz/32 bit
MQA Full Unfold with Supported DACs
DSD 512 / PCM 768 kHz-ready for future use with next generation DACs
Wireless Wi-Fi 802.11ac connections supports stereo DSD 256 and stereo PCM 384 kHz / 32 bit
Multi-channel playback via Gigabit Ethernet connection
Server Support
External: Roon Server, Signalyst HQplayer, JRiver, UPnP/OpenHome
Built-in: UPnP Server for use with attached USB drive. Up to eight USB drives can be attached with external powered USB hub.
Technologies
Audio streaming protocols: Roon RAAT, Signalyst NAA, UPnP, Open Home, AirPlay
Networking: Gigabit Ethernet, Wi-Fi 802.11ac
Web interface for remote operation and advanced configuration from a mobile device
Remote support
Remote upgrade
Sigma Streamer is a certified RoonReady device. RoonReady means that it transparently discovers and connects to Roon with no network configuration and delivers bitperfect audio to your DAC.
When used with the exaSound e32 Mark II DAC, the Sigma Streamer supports full MQA decoding and rendering Hi-Res music data up to 24-bit 384kHz.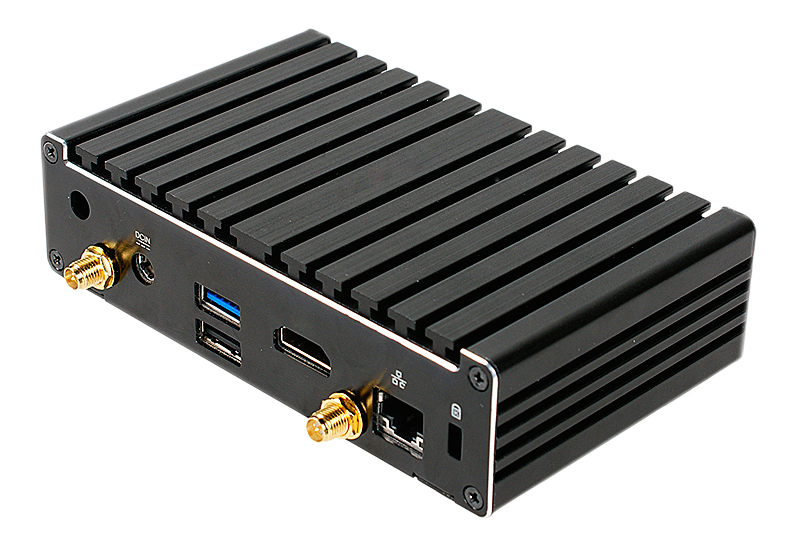 Specifications
Maximum sampling rate DSD
 DSD256
DSD512-Ready
 Maximum sampling rate PCM
 PCM 384kHz/32-bit
PCM 768kHz-Ready
MQA Support
(Requires Compatible DAC)
 Full Unfold up to 384 kHz
Web user interface
 Yes
CPU
 1.83GHz, Quad-Core
RAM
 2GB
UCB Ports
 1xUSB 2.0; 1xUSB 3.0
SSD for Libray Storage
 128GB
Support for third-party DACs
 USB Audio 2.0, availability of features is not tested
Firmware
 Version 20